Lock-down
A series of photographs, and interviews, taken of people who live together during lockdown, in the UK. They were photographed whilst receiving a haircut from someone they live with, in line with hair dressers being closed during this time.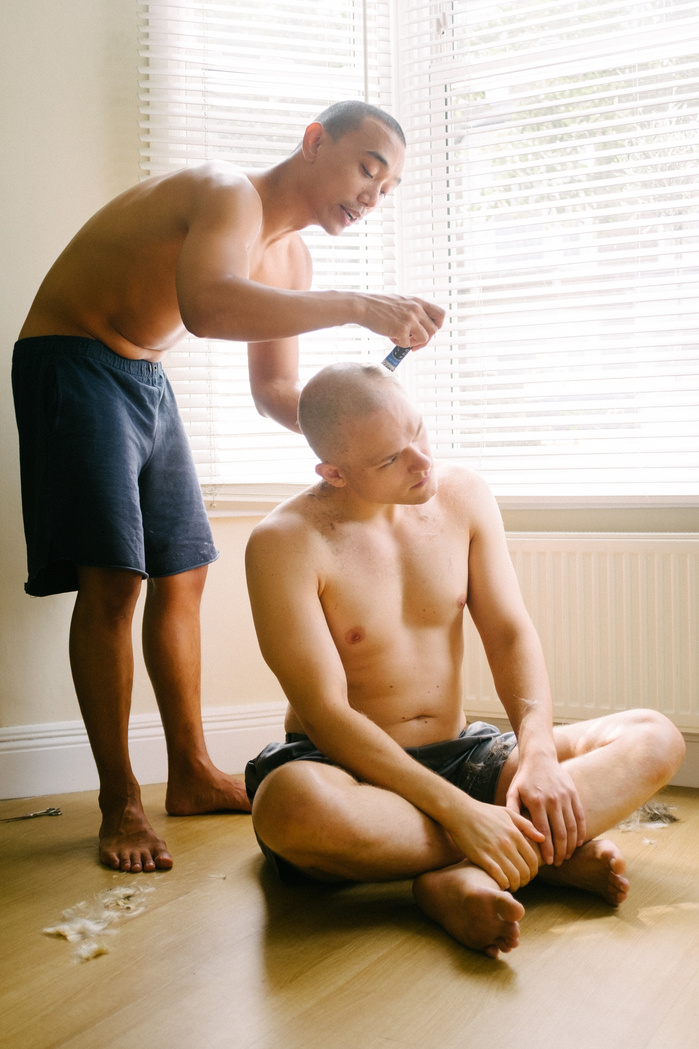 Mark: So I think that, we've always been intimate in the conventional way couples are meant to be intimate, so in the bedroom, with emotions etc. But ever since lockdown I think we've gotten closer in that the mundane has become incredibly intimate. So for example we aren't just there for each other psychologically, we'e also there to cut each others hair, as you know, so we've become intimate in the way a barber is with their client. The same goes for other things, like counselling, so if one of us has a mental breakdown we don't go to a councillor we go to each other
Aleks : Yeah no, I think its just yeah, we've become much closer during the lockdown, because like we always were close, but we've gotten a lot closer because like I've seen Mark during meetings, and after meetings, and phone calls with friends and family, which is not something I've seen and now I see it every day which is another level of intimacy. And he's been there for me when I've been breaking down and crying so 100% I'd say we've gotten closer during lockdown.
Melvin + Alvin (brothers)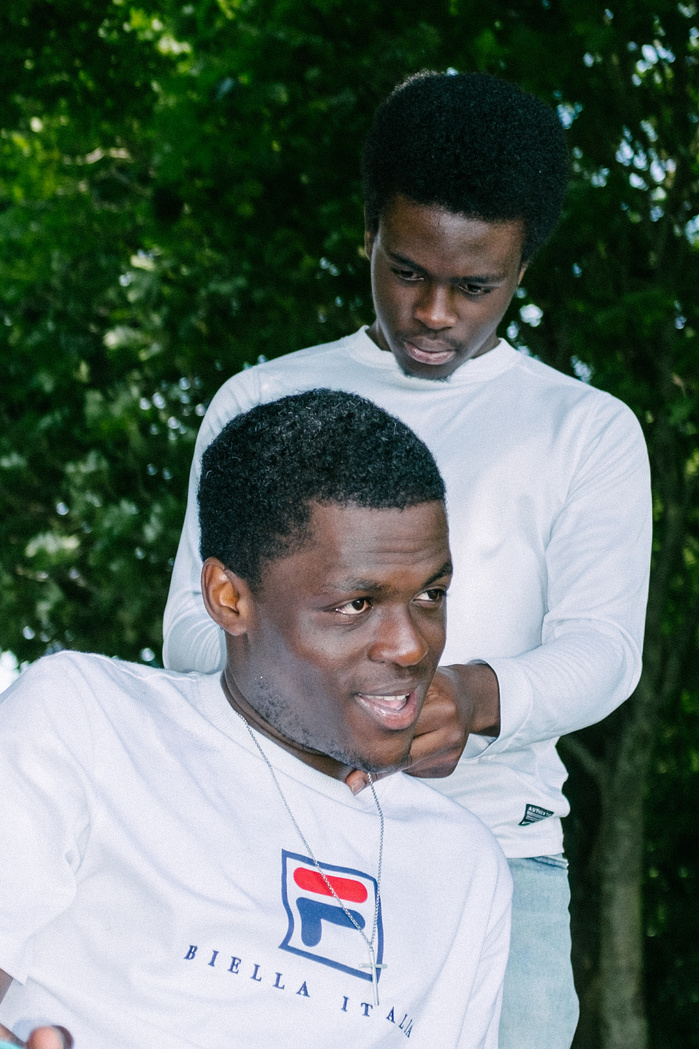 Melvin:
Yeah I definitely think we've gotten closer. I think because we when we went to uni and we've been together for like 18 years because we're twins as well. We were doing everything together obviously. But then when we went to uni it was like oh okay. But then when lockdown came it went back to being like old times. But it's kinda different compared to old times because obviously you can't go out and see your friends, so we have to make do, not make do, but make the best of the time you have with each other.
Alvin
We went to boarding school so most of our friends don't live around here so they live in reading or leads or horseshoe or something so it means I have to put up with Melvin (both laugh) So obviously we went to uni in October (2019) and this is the first time since then that we've seen each other for more than 2 days or something for the weekend. So I wouldn't say we've gotten 'closer' than we were, but its been nice to remember how it was before uni.
Natasha + Johnny (Couple)
As doctors in the NHS, we've actually worked more than normal during covid. Sometimes it's hard when we're working out of sync. He might be on night shifts while I'm working 12 hour day shifts - I'll come home to see a used dish in the sink and that's how I know Johnny has been home. We're also more socially isolated - not just in a lockdown sense, but it seems people are scared of us because of the work we do. So despite not seeing each other, we've become even closer as we've come to rely on each for emotional and social support. Plus we've found a really great board game.
Moira + Tim, Vincent + Cece (two couples living in one household)
Moira and Vincent are also siblings.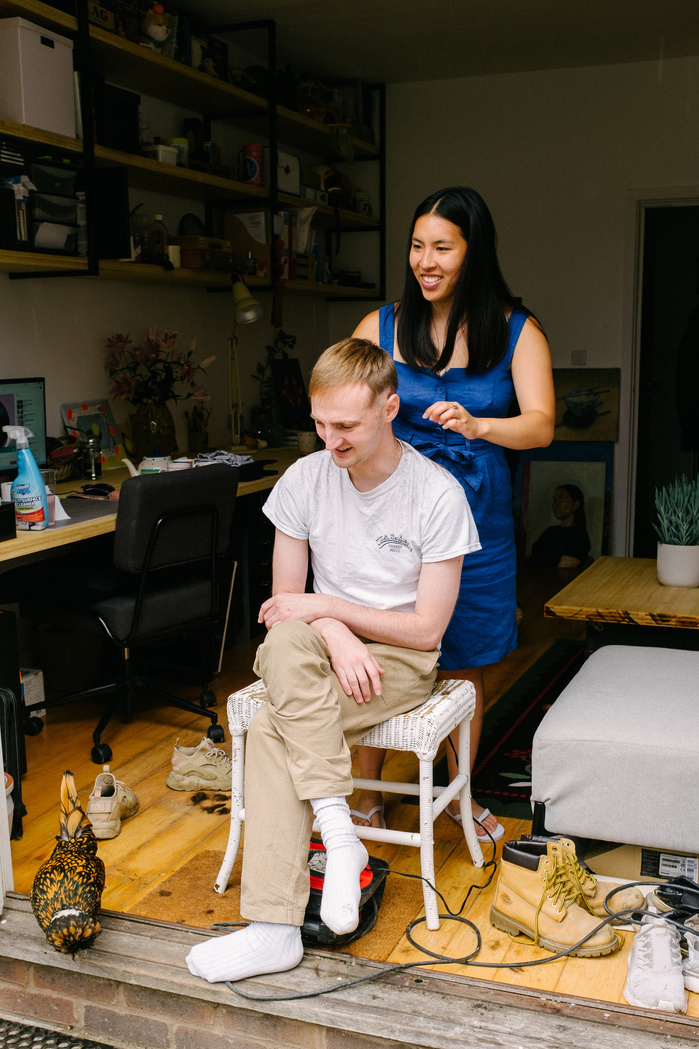 Tim: I realise now she is crazy, absolutely barking mad but um I just fall in love with her more and more with her every day.
Moira: Lockdown has brought us closer, we've been together for ten years since university and he's still my best friend. Our lives haven't changed drastically as we're freelance animators and designers so we are used to working from home a lot. It can be hard when we get stressed so we have to remind each other that we love each other and not to go to bed angry or upset. We've been on anxiety and depression medication for over a year which is helping our mental state.
We live with my brother Vincent and his girlfriend Cece so its good to talk to other people. We have three pet chickens who help to brighten up my day. I love them an unhealthy amount. We have taken up oil painting, gardening and getting to know our neighbours. Also we've been watching classic films, gardeners world and antiques roadshow - basically early retirement. We've been evaluating what we want from life, currently plans are on hold for getting married and moving out of London but we'll see what happens after lockdown.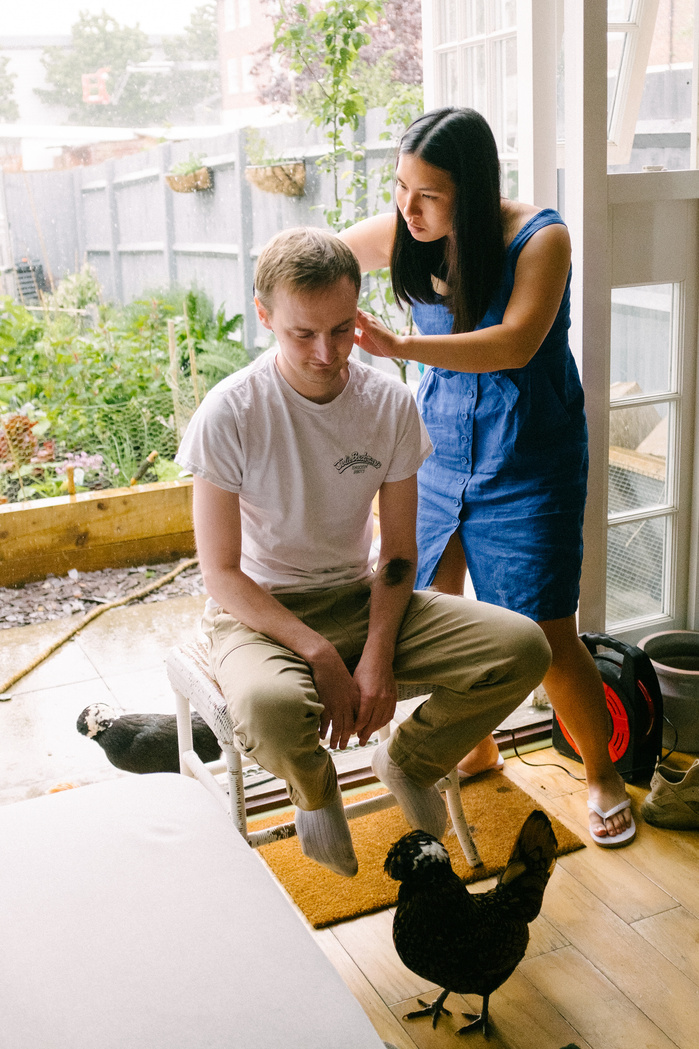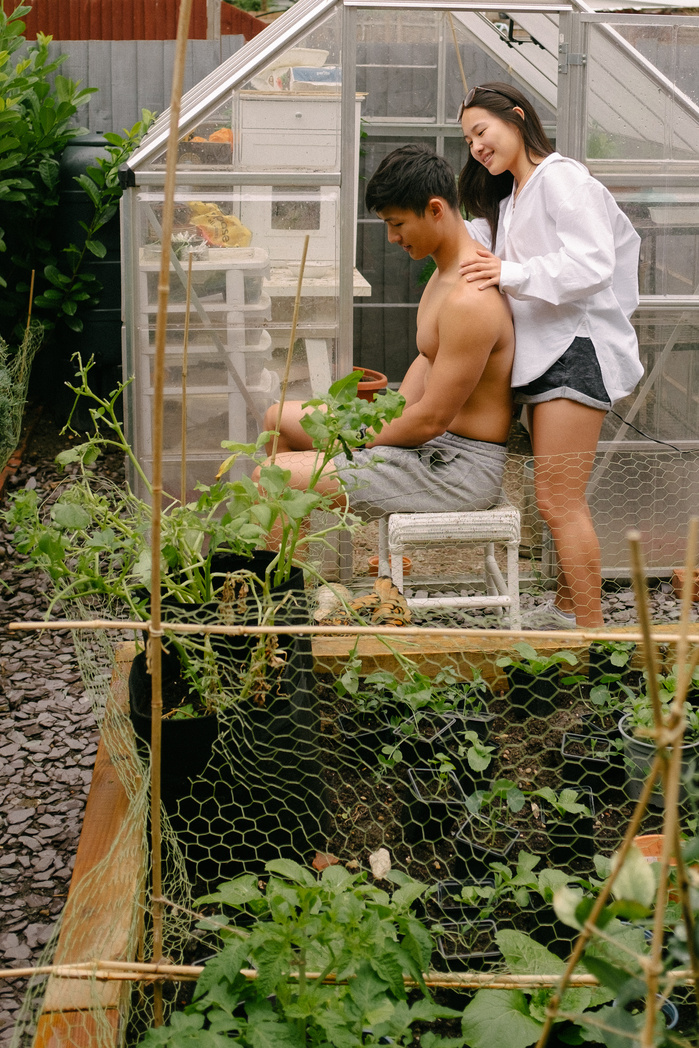 We've definitely gotten closer, we've been through a lot, we actually went through quite a rough patch, about a month into lockdown. It started there and it got quite stressful so we moved here and got our own rooms. It was close to breaking point.
I think with our plans going awry, you know moving to Berlin went out of the window and just general life stuff like loosing jobs. But now we've got some space from each other, and so now we're stronger and closer together than we have ever been because we've been gone through a lot together. We're much more open with communication and with each other because we've had to be during this time.We kind of think if all the circumstances haven't broken us, we think that we're now unbreakable because we've gone through this.
We have to be much more sensitive to other people living here as its a warehouse and everyone can hear everything. So definitely I think that's been something that's meant we've toned down our arguments and we talk more. In terms of the future, our plans our obviously on hold but we want to still move Berlin or anywhere but here really! So I'm from Cornwall and Szymek is from Brixton, but we're both kind of tired and sick of this country and we both have this yearning to go to Europe, we think we'd be more content there.